Meet Our Pros
Liz Cruz Flores

Liz began playing tennis at a young age in El Salvador. Early in her career she represented El Salvador in the Fed Cup Tennis and played in other WTA professional tournaments. During one of the tournaments she was approached and recruited by Gigi Fernandez to come play at the University of Southern Florida. During her USF years she played Division 1 tennis where the team won the Big East Conference. After 4 successful years she was invited to be the Women's Assistant Coach while completing her Master's Degree in Business at USF. Since moving to Connecticut in 2011 Liz began teaching tennis as an Assistant Tennis Professional from 2011-215 and began to play Platform Tennis. She quickly became hooked on the game and a top-ranked professional player. During her short platform tennis career Liz has won 2 National Championships in 2015 & 2018, was a Finalist in 2017 and her team is ranked number 1 in 2018. Naturally Liz was invited to teach at Performance Paddle Camps along with Gerri Viant and Mike Gillespie who have a combined 22 National Paddle titles. Liz has an infectious enthusiasm for teaching tennis and paddle tennis at all levels and for all ages. She encourages participation in racquet sports by planning a wide variety of events not only to grow skill levels, but also to promote on and off court fellowship.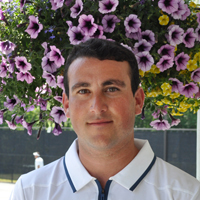 Corey LaBella
Corey has been a Tennis Teaching Professional in the northeast for over 10 years. At The Patterson Club Corey successfully lead the junior boys & girls team to league championships under his coaching. He also helped run all the ladies team practices from A-D team. He taught and ran the USTA juniors at The Weston Racquet Club, an Ivan Lendl Tennis Center, for two seasons in the winter as well as help with the high school programs there.Corey played high level high school tennis after which he went on to play for Salisbury University. It's worth mentioning Corey's Grandfather, the late Gerald Slobin, was inducted in the New England Hall of Fame in 2008. Corey's passion for the game of tennis and paddle has lead him to love the teaching world.
Ben Zuckerberg

Ben has been around the game of tennis his entire life. As a player, he reached top 50 in the country, and top 3 in New England. Ben was a 3 time state champion at Amity High School and also named all area MVP by the CT Post and New Haven Register 3 years in a row. Ben has been a hitting partner for professional tennis players throughout his career. Ben has been teaching professionally for 10 years. He brings great energy to the courts and adapts to different styles of play and personality. Ben has coached juniors who have reached as high as 1 in the country in both USTA and NCAA. He also coached Fairfield Warde High School to a state championship and was named coach of the year by the CT Post.