CONTACT INFO
Please contact us today:
Racquet Pro Shop
Voice: 203-255-3010
Email the Pro Shop
Meet Our Pros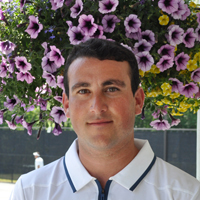 Corey LaBella
203-255-3010
Corey LaBella has been a Tennis Teaching Professional in the northeast for over 10 years. Corey comes to the Patterson Club where he has been the Assistant Professional for tennis and paddle for over 8 years.
At The Patterson Club Corey successfully lead the junior boys & girls team to league championships under his coaching. He also helped run all the ladies team practices from A-D team.
He taught and ran the USTA juniors at The Weston Racquet Club, an Ivan Lendl Tennis Center, for two seasons in the winter as well as help with the high school programs there.
Corey played high level high school tennis after which he went on to play for Salisbury University.
It's worth mentioning Corey's Grandfather, the late Gerald Slobin, was inducted in the New England Hall of Fame in 2008.
He comes from a huge tennis family background and has been influenced greatly by his uncle and aunt.
Corey's passion for the game of tennis and paddle has lead him to love the teaching world.
His current certifications are listed below. He continues to get his education in the sport every year by adding more certifications.
He currently plays national paddle tournaments and his ranking increases every year!
- USTA Sports Science (Level 1)
- PTR (Professional Tennis Registry) Adult Level 1
- PPTA (Professional Platform Tennis Association) In the process